BETH MASSIVELY GREW HER BLOG TRAFFIC
And start selling courses and coaching.
Beth is a blogger and expert for Magickal Rituals for Intentional Living, at cauldronandbrew.com. Beth has been blogging for quite some time with great content and such an interesting niche, but was struggling to increase her blog traffic.
Over the last few months she has had some major wins! Keep watching to find out: the shift Beth made to grow her blog's traffic. how she learned to really tune into her audience's needs, and how listening helped increase her sales!
Andrea used her blog to launch a membership
And now earns passive income every month.
How Andrea Used Her Blog To Launch Her Membership
Andrea is a long-time blogger and social media strategist.
And while she knew what she was doing – like many of my clients – she struggled to connect the dots between her blog AND a meaningful income.
Watch her story and learn what shifts she made to leverage her blog to launch her successful membership!
Traffic Jumped From 1k Monthly to over 20,000 in 30 days
Shauna bought my Pinterest workshop, and we also did some coaching together.
She had a great blog, but due to life things that happened, struggled with consistency…
…And, like most bloggers, actually making money. 
Using my strategy and following my tips, she not only skyrocketed her traffic
BUT also but launched an offer with ease AND qualified for Mediavine. 
$500 months to over $2,000
Not including Mediavine which She qualified for
Kate had an amazing following and decent traffic, but was struggling to make meaningful income from her decorating blog. 
Kate had a major mindset shift while working in the Monetization Accelerator Program that led to a slight pivot, massive traffic increase, and way more sales for her decorating design offer.
$100,000 in Sales in 4 months
Launched a Physical Product with no audience or list.
John is a friend and client who developed a product for cooling your pool called a Lily Chiller. He needed help with marketing and messaging and…kind of blew it out of the water (no pun intended). He made over $100,000 launching his offer over the summer, and has plans to expand into stores and other countries.
He also plans to coach other entrepreneurs to repeat his success.
Samantha Made $7,600 In Her First Month Of Business & Quit Her Job
Samantha had some previous entrepreneur success and direct sales experience, but was anxious to leave her demanding job where she was never home – to spend more time at home while making more money. 
She had HUGE initial success.
But what makes her story even MORE interesting is the slump she experienced and how she recovered from a "success hangover". 
During our work together, she was able to continue her consistency, master her mindset, and end up with her first $10,000 week. 
$2,000 in sales in 6 weeks
Used her blog to get coaching clients, and made $2,000 in 6 weeks
Awilla came to me to run some Facebook ads and grow her traffic with Pinterest. We did that – but we did WAY more. 
She launched her keto coaching program for moms, and she quickly signed up her first 5 clients. She's since gone on to increase that income to $5,000 months, and her husband is now able to stay home and home school their children. 
Increased her income 411%
3 profitable launches so far. Second earned 5x what the first earned
Desiree came to the Monetization Accelerator Program and as she says – had a LOT of wins! But none of them had dollar signs. 
She made a few course sales in her first launch, but in her second launch, she increased her income by 411% month.
With almost no audience, and with a new offer
Rachel came to me because she had a ton of corporate experience in marketing and product development, but she was ready to go off on her own so she could stay home full time. 
She launched her offer, the Bulletproof Business, and quickly helped clients see results. She made $14k her first month. 
Chrissie gained massive clarity after feeling lost for 3 years with her blog
Chrissie had been making a couple hundred dollars a month with her blog, with a decent amount above that running Facebook ads for people. But she'd always felt STUCK knowing what to sell with her own blog.
Joining M.A.P. and being held accountable for taking action and following through FINALLY gave her the clarity she was looking for, for years. 
Kim went from $200 monthly maximum to her first $1,100 month
Kim is an experienced blogger who makes printables other bloggers and creators can commercially license and sell on their platforms.
She was struggling to build an audience and increase sales, but she KNEW she needed out of the 60-hour workweek forever so she could be home with her newborn. She made some massive mindset shifts, did a ton of market research, re-launched her offer, and had her first month over $1,000. 
First Buyer On First Launch Was A Annual Pay In full for a monthly membership
Took My Advice – Sold 14 Memberships In 24 Hours
Pivoted During COVID and exploded traffic growth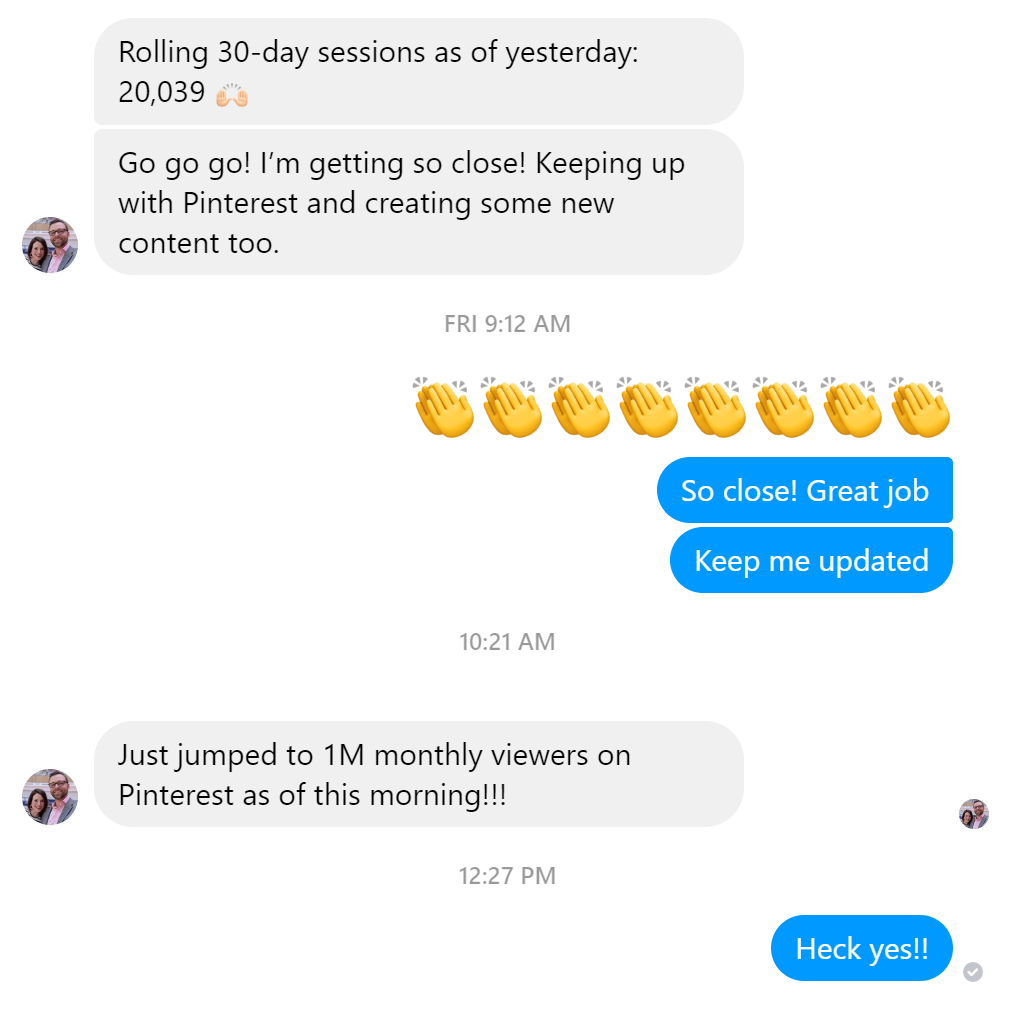 Madi pre-sold her Pinterest coaching program before even launching
Mindful Marketing Mavens is lit
Bekah used my coaching to help her sell more artisan products
Laurie had 2 profitable launches while in M.A.P.
After trial and error, Beth had her first profitable launch. She went from getting 1 new subscriber per day to getting 300+ per month
Elle used my advice to stay relevant and increase sales during covid
Hamna's social posts consistently go viral
Melissa launched her blog in 5 weeks, and now makes $1900 per month, on top of a full time job, as a virtual assistant
Desiree increased her income 411% month over month and made 6x in her second launch what she did in her first. 
Mindful Marketing Mavens is lit
This is the benefit of having a coach simplify and prioritize your effort
Stacy launched a beta program and had 10 people sign up in just a few days
I began using Alison's Pinterest strategy in early December. 
By the end of the month I had nearly doubled my monthly sessions, which allowed me to apply to Mediavine.
Between ad revenue and Amazon sales, I also boosted my income by over $200 for the month.
I also grew my Pinterest monthly impressions from around 800k to 1.5 million.
I thought I could figure it out on my own using Tailwind scheduling, but her detailed walk-through of her manual pinning strategy is what made the difference." Arlin K.
Alexis increased her traffic
220% in 30 days.
Carol doubled her email list in a weekend by clairfying her niche and replacing her opt-in.
Kate qualified for Mediavine in 30 days after pivoting.
I helped Kathryn finally connect all the dots
used mindset training to procure multiple large speaking opportunities
I helped REI Network, L.P. double their business in a year by utilizing Facebook and going nationwide.
I helped Big State Home Buyers get to over 200 deals per year by leveraging a blog to build traffic, trust & authority.
I helped Mike save $600 per month on our first call by simplifying his tech stack.
I took Alison's Pinterest Workshop on the recommendation of some people on a Blogging Facebook group I belong to. I've been a Pinterest user for years, but had no idea how to use it to promote my blog.
After taking the workshop, I created a business Pinterest page and went from 0 monthly viewers to over 31K views in just a few short weeks.
What I love about the class is that you get to watch video instructions of exactly what you need to be doing to get your Pins viewed, saved and clicked on. I'd highly recommend the workshop.
Margaret Kukuc | LiveLikeNoOneElse.com
KaRonna increased her traffic by 14,000% in 90 days.
Jace regularly gets 100+ comments on her Facebook engagement posts.
Tayler dreamed of launching a blog for 2 years. We launched it together in 5 weeks. 
Mavens, I'm sure you all know how awesome Alison is, that's why you're here! But last night I had a 90min intensive with Alison and I'm proper super excited about implementing everything she taught me!
For the first time in forever I feel like I have a genuine strategy in place that is going to help grow my traffic, blog and biz! Alison taught me so much in such a short space of time!
We covered Pinterest, how to write storytelling posts, creating revenue outside of clients, what to send your email list and then a Q&A where I fired a million questions at Alison 🤪 Seriously, this girl knows her stuff, I feel so grateful I got the chance to work with her and I'm excited about the next month! Ill keep you all posted!! xx
– Samantha Darby, TheBodyLoveCoach.co.uk
I'm on a high right now!! 😍
Just got off the phone from my 1-on-1 intensive with Alison Reeves! So insightful and so much valuable advice and information!!
I loved how our conversation was so natural (mix in some humor with business). Haha. Can't wait to implement all the good, custom-to-my-business strategies you gave me!! 🙌
I'm truly grateful, Alison!! Thanks for serving your people well… and I can't wait to learn more from you!
Sarah Sung, Sungandco.com
Before working with Alison, running ads was a daunting task that overwhelmed me. I didn't know where to begin or even what questions to ask but Alison was so knowledgeable on the topic that she immediately eased my nerves and steered me in the right direction. 
With her guidance I was able to save time, money and restore my peace of mind.
Her strategies resulted in a successful webinar full of my ideal clients so I couldn't be more happy. I'm looking forward to working with her again in the near future.
Sarah Gaines, SarahGaines.com
Earnings disclaimer: All the testimonials included on our websites, programs, products and/or services are real-world examples and stories of other people's experiences with our programs, products and/or services. But they are not intended to serve as a guarantee that you will achieve the same or similar results. Each individual's performance is different and your results will vary accordingly. Learn more.